<![if !vml]>

<![endif]>
| | | | | |
| --- | --- | --- | --- | --- |
| ROK | MIESIAC | DZIEN | MIEJSCE | TEMAT |
| 2003 | Luty | 23 | Bintan | |
| 2003 | Luty | 20-21 | Bintan | |
| 2003 | Luty | 22 | Bintan | |
| 2003 | Luty | 19 | Bintan | |
| 2003 | Luty | 17-25 | Bintan | |
| 2003 | Luty | 17-25 | Bintan | |
| 1992 | Czerwiec | | Jawa, Bali | |
INDONEZJA, Indonesia, Republika Indonezji, Republik Indonesia,
państwo w pd.-wsch. Azji, na Archipelagu Malajskim i w zach. części Nowej Gwinei,
między O. Indyjskim i O. Spokojnym, po obu stronach równika; rozciągłość z zach. na wsch. wynosi ponad 4800 km, z pn. na pd. — 2000 km.
<![if !vml]>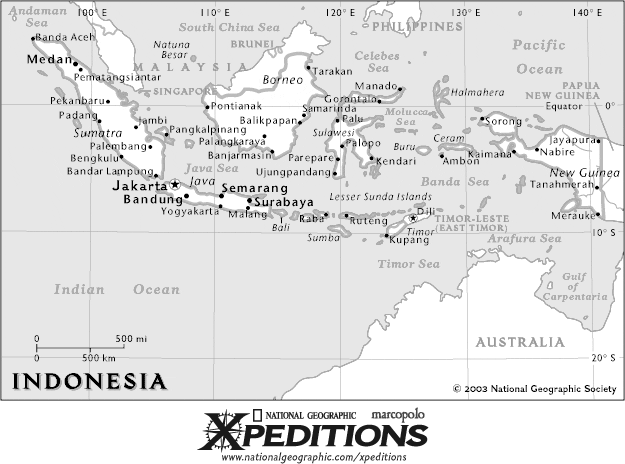 <![endif]>
Informacje ogólne
Stolica: Dżakarta
Powierzchnia: 1919,4 tys. km2 (z wodami terytorialnymi 3772,2 tys. km2)
Ludność: 202,2 mln mieszk. (1997)
Język urzędowy: bahasa indonesia (indonez.)
Jednostka monetarna: rupia indonezyjska
Święto narodowe: 17 sierpnia — dzień proklamacji niepodległości (1945)
Podział administracyjny: 27 prow., w tym 3 (Aceh, Dżakarta i Jogyakarta) okręgi specjalne
Granica: z Malezją (na Borneo) i Papuą-Nową Gwineą (na Nowej Gwinei), cieśn. Malakka oddziela Indonezję od Malezji i Singapuru, morza Sulu i Celebes — od Filipin, morza Timor i Arafura — od Australii
Indonesia
Republic of Indonesia
Area
1,904,570 sq km (735,358 sq mi)
Population
220,483,000 (updated 2004)
Capital
Jakarta 11,429,000
Religions
Muslim, Protestant, Roman Catholic, Hindu, Buddhist
Languages
Bahasa Indonesia, English, Dutch, Javanese and other local dialects
Literacy
84%
Life expectancy
68 years
GDP Per Capita
U.S. $3,000
Economy
Industry: petroleum and natural gas, textiles, mining, rubber.
Agriculture: rice, cassava, peanuts, rubber, poultry.
The world's fourth most populous nation, Indonesia is the largest Islamic country, with some 175 million Muslims. About 300 ethnic groups speak 365 local dialects on more than 13,660 islands. Unity and stability are improving, although outer areas of the archipelago resent domination by Java.

After independence from the Netherlands in 1949, the republic confronted a high birthrate, low productivity, and illiteracy—areas in which progress has since been made. In the late 1980s mining, manufacturing, and tourism absorbed many of the two million who enter the job market each year.

The Asian financial crisis hit Indonesia extremely hard. Public unrest, including violent rioting, forced President Suharto—in office since 1968—to resign in May 1998. As political parties vie for office, inflation and unemployment are high; the country teeters on the verge of economic collapse.
Text source: National Geographic Atlas of the World, Seventh Edition, 1999