<![if !vml]>

<![endif]>
| | | | | |
| --- | --- | --- | --- | --- |
| ROK | MIESIAC | DZIEN | MIEJSCE | TEMAT |
| 2007 | Kwiecien | | Oslo | |
| 2007 | Kwiecien | | Eidsvoll, Oslo | |
| 2006 | Sierpien | | Oslo | |
| 2006 | Sierpien | | Oslo/Lillehammer | |
| 2006 | Marzec | 18-25 | Oslo, Lřrenskog | |
| | | | | |
| 2004 | Sierpien | 20-22 | Lillehammer | |
| 2004 | Maj | 3-5 | Oslo | |
| 2004 | Luty | 1 | Oslo | |
| 2003 | Czerwiec | 12 | Oslo | |
| 2003 | Maj | 17 | Oslo | |
| 2003 | Marzec | 23 | Oslo | |
| 2002 | Czerwiec | | Oslo | |
| 2000 | Wrzesien | | Oslo | |
NORWEGIA, Norge, Noreg, Królestwo Norwegii, Kongeriket Norge, Kongeriket Noreg,
państwo w Europie Pn., na Płw. Skandynawskim nad morzami Barentsa, Norweskim, Północnym i cieśn. Skagerrak.
<![if !vml]>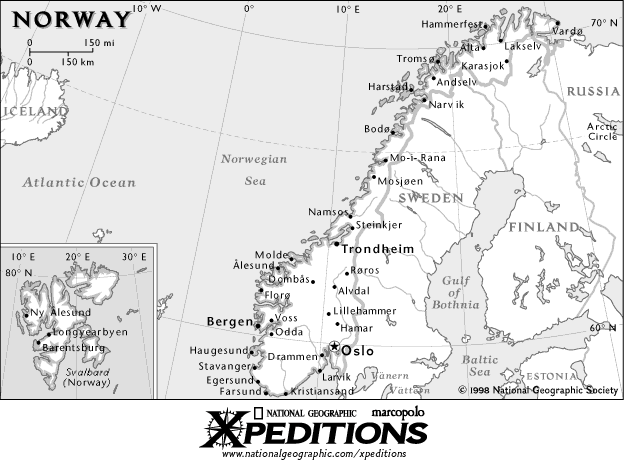 <![endif]>
Informacje ogólne
Stolica: Oslo
Powierzchnia: 323,9 tys. km2 (bez posiadłości w Arktyce i Antarktyce)
Ludność: 4,4 mln mieszk. (1997)
Język urzędowy: norweski
Jednostka monetarna: korona norweska
Święto narodowe: 17 maja — Dzień Konstytucji (1814)
Podział administracyjny: 18 okręgów (fylker) i miasto wydzielone Oslo;
do Norwegii należą archipelag Spitsbergen, wyspy Niedźwiedzia i Jan Mayen na M. Arktycznym oraz wyspy Bouveta i Piotra I w Antarktyce
Granica: z Rosją, Finlandią i Szwecją
Norway
Kingdom of Norway
Area
323,759 sq km (125,004 sq mi)
Population
4,568,000
Capital
Oslo 787,000
Religion
Evangelical Lutheran
Language
Norwegian
Literacy
100%
Life expectancy
79 years
GDP Per Capita
U.S. $31,800
Economy
Industry: petroleum and gas, food processing, shipbuilding.
Agriculture: oats, other grains; beef; fish.
The thinly populated Kingdom of Norway, whose dominion includes the Arctic islands of Svalbard and Jan Mayen, is partitioned by mountains and has a fjord-gashed shoreline that exceeds 21,000 kilometers. Ever since Vikings left home waters in the ninth century, Norway has drawn strength from the sea. Today its merchant and oil-tanker fleets are among the world's largest, and its fishing flotilla lands Western Europe's biggest catch.

Wealth from oil and gas in the North Sea, first tapped in the early 1970s, subsidizes public health and welfare programs. Recession required austerity in the 1980s, but in the 1990s Norway enjoyed a higher economic growth rate than many other European countries. In 1997 Norway was the world's second largest oil exporter. A member of NATO, the UN, and the European Free Trade Association, Norway voted against joining the European Union in 1994. The country is home to some 30,000 Sami, or Lapps—the largest population of the Arctic reindeer herders.

Airborne pollutants from Britain and elsewhere pollute southern Norway's inland waters with acid-rain contamination.
Text source: National Geographic Atlas of the World, Seventh Edition, 1999