<![if !vml]>

<![endif]>
| | | | | |
| --- | --- | --- | --- | --- |
| ROK | MIESIAC | DZIEN | MIEJSCE | TEMAT |
| 2004 | Maj | 15 | Bruksela | |
| 2004 | Maj | 15 | Bruksela | |
| 2004 | Maj | 15-21 | Bruksela | |
| 2004 | Maj | 15-16 | Bruksela | |
| 2004 | Maj | 15-16 | Bruksela | |
| 2004 | Maj | 15-16 | Bruksela | |
| 2004 | Maj | 14-16 | Bruksela | |
| 2004 | Maj | 14-15 | Bruksela | |
BELGIA, Belgique (franc.), België (flam.), Królestwo Belgii, Royaume de Belgique (franc.), Koninkrijk België (flam.),
państwo w zach. Europie, nad M. Północnym.
<![if !vml]>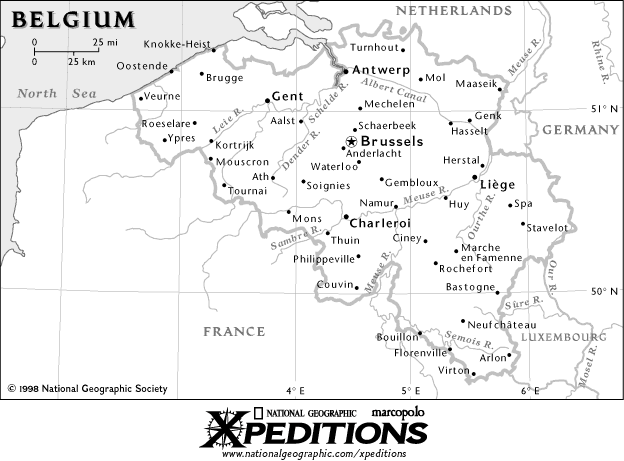 <![endif]>
Informacje ogólne
Stolica: Bruksela
Powierzchnia: 30,5 tys. km2
Ludność: 10,2 mln mieszk. (1997)
Języki urzędowe: francuski i flamandzki
Jednostka monetarna: frank belgijski
Święto narodowe: 21 lipca (rocznica wstąpienia na tron Leopolda I 1831)
Podział administracyjny: 9 prowincji (od 1963 obowiązuje podział kraju na 3 strefy językowe: flam., waloń. i dwujęzyczną w Brukseli)
Granica: z Holandią, Niemcami, Luksemburgiem i Francją. Belgijska enklawa Baarle-Hertog (pow. 7 km2, ok. 2 tys. mieszk.) leży na terytorium Holandii.
Belgium
Kingdom of Belgium
Area
30,528 sq km (11,787 sq mi)
Population
10,380,000
Capital
Brussels 1,134,000
Religions
Roman Catholic, Protestant
Languages
Dutch, French, German
Literacy
98%
Life expectancy
78 years
GDP Per Capita
U.S. $29,000
Economy
Industry: engineering and metal products, motor vehicle assembly.
Agriculture: sugar beets, vegetables; beef.
Belgium, under a 1988 international treaty, became the first European country to eliminate all intermediate-range nuclear weapons. After centuries of invasion and occupation, this crossroads of Europe now stands at center stage in the newly unifying continent. Although divided between Dutch-speaking Flemings in the north and French-speaking Walloons in the south, Belgium is bolstered by a strong economy and can compete in the new single-currency European marketplace. The capital, Brussels, is headquarters of the European Union and the North Atlantic Treaty Organization.

Belgium takes pride in its architecture—cathedrals, city squares, town halls—much of which dates from the Middle Ages.
Text source: National Geographic Atlas of the World, Seventh Edition, 1999